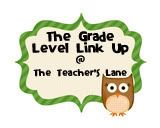 Directly from Kim's blog..."The Teacher's Lane"
Welcome to the Grade Level Linky Party! I love looking at all the teaching blogs out there, there is so much inspiration! But since there are so many teachers in the blogging community, it's just hard to know about them all! It can also be hard to find blogs that are specific to your grade level. So I thought, why not try to organize them?
Just add
the
main page of your blog to the linky list under the correct grade level. This linky party is set to have no ending, so it will be here indefinitely! Teachers will always be able to come here and find your blog, and you will be able to find new blogs as they are added to the linky party. It would be great if you could follow The Teacher's Lane or grab a button to help spread the word. The more teachers who join in, the bigger the party!
I hope this will be a place where teachers come to meet fellow educators, share ideas, and support each other's blogs!